For title clarification: Jesus said, "I am the way and the truth and the life…" Jesus then said, "I am the vine, you are the branches; he who abides in me and I in Him, he will bear much fruit, for apart from me you can do nothing." (John 14:6, John 15:5)
Jesus said He is the "I am". The I am what? Anything you need. Do you need wisdom? That's Jesus. Do you need righteousness? That's Jesus. Holiness? That's Jesus, too. Scripture teaches: "He (Jesus) has become for us wisdom from God – that is our righteousness, holiness, and redemption. Therefore, as it is written let him who boasts boast in the Lord." (I Corinthians 1:30,31)
Have you ever prayed asking God to pour out all His blessings on you…when in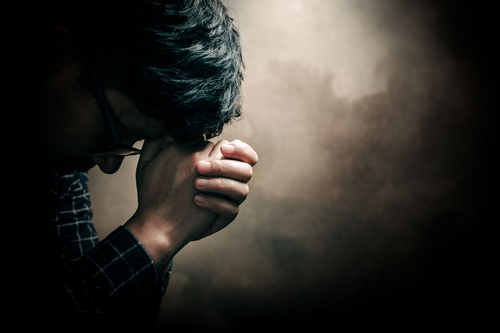 fact God has already blessed you with every spiritual blessing from above in Christ? (Ephesians 1:3) The need is not that God should give us something that we don't have. The need is that we should know what we do already have. Well, Amen!
All the fullness of God, "the great I am", is in Christ Jesus. "For it was the Father's good pleasure for all the fullness to dwell in Him.", and if you are a born again believer, all the fullness of Jesus dwells in you right now. That is the mystery of our faith. "Christ lives in you, the hope of glory." …"You are complete in Christ."
(Colossians 1:19, 27, 2:10)
So you can stop praying for what you already have. Just appropriate through prayer the sufficiency of Christ who is living in you…and you can do all things through Christ.
Just ask Him to do for you what only He can do. Remember, He gives all men life and breath and everything else. You don't have to struggle or beg for what you think you need. You already have it. Just let Jesus be Jesus in and through you and watch what Jesus does. We call this way of praying CHRIST AS YOUR LIFE or ABIDING LIFE PRAYERS. Jesus does it all and we get to bear the fruit of the Holy Spirit. Oh, the wonderful life of a branch connected to the vine.
LIFE LESSON: Prayer is how we feed the life of the Son of God within. By feeding Him our Spirit Directed prayers and requestsand trusting Him to complete them in and through us, we will experience a very satisfying, stress free prayer life. The Word of God is crystal clear! "Do not be anxious about anything, but in everything, by prayer and petition with thanksgiving present your requests to God. And the peace of God, which transcends all understanding, will guard your hearts and your minds in Christ Jesus." (Philippians 4:6-7) Well, Amen again!
Thank You Jesus!
We appreciate and praise God every day for your prayers, partnership, and faithful financial support.
You're the best!
Growing in His Grace