Our New Year's resolution this year is "Let it be…Christ in me…in 2023."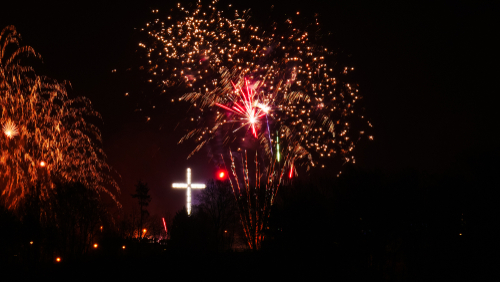 Can we determine by the life we live whether or not God is pleased with us? Example: If our children are doing well and our business is good, then God must be pleased with us. If our world is in relative peace and everything is going our way, then God is blessing us. But if the opposite is our experience, then we conclude that God is not pleased with us. We think He desires for us to do more trusting, to have more faith, to pray more, to have more Bible study time, more spiritual discipline, more consistency in our walk, and so forth.
Here's a problem with that thinking. We read in the scriptures that people of profound faith trusted God, and He delivered them from the lion's den, unscathed. But we also know from history that other people of profound faith trusted God, and the lions tore them to pieces. Both trusted God; both demonstrated faith. God delivered one, and let the other die a torturous death. Was He pleased with the one and displeased with the other?
For those of us who live in the United States, we are privileged to dwell in the wealthiest, most advanced nation in the world at this time. Does this mean that we are more pleasing to God than those who do not live in our nation?
What about those who pray for God to enlarge their business, their influence, their contact list, their car and home; and God blesses them with these tangible things? But then…what about those who pray and trust and do not receive tangible evidences of God's blessings? Is God less pleased with them? Absolutely not!
Our heavenly Father's love, blessing, and pleasure cannot be measured, determined, or observed by our circumstances. Our significance, importance, acceptance, and standing with Christ Jesus cannot and must not be appraised circumstantially.
If we miss this point, not only will we subject ourselves to disappointment and disillusionment if circumstances don't fall our way, but we will compromise our role in God's story. Life is not about us. It's all about Jesus. The life we live is not about our story, but the part we play in His story. He created the world, lived amongst us, and said He is the way, the truth and the life. So you see history is all about His story.
What then is God's purpose and will for our Christian lives? It is to allow Christ Jesus to live out His story in and through our bodies by faith. We are literally the body of Christ. Scripture clearly states this truth…"Do you not know that you yourselves are God's temple, and that God's spirit lives in you?" This exciting reality we embrace by our faith!
(See I Corinthians 3:16)
LIFE LESSON: "For we who are alive are always being given over to death for Jesus' sake so that His life may be revealed in our mortal bodies." This is The Life We Live…By Faith. The Apostle Peter calls it "participating in the divine nature."
(See II Corinthians 4:11 and II Peter 1:4)
Let it be…Christ in me…in 2023. Happy New Year!
We appreciate your partnership, prayers and financial support. Thank you. Growing in His Grace