"All praise to God, the Father of our Lord Jesus Christ, who has blessed us with every spiritual blessing in the heavenly realms because we are united with Christ."  Ephesians 1:3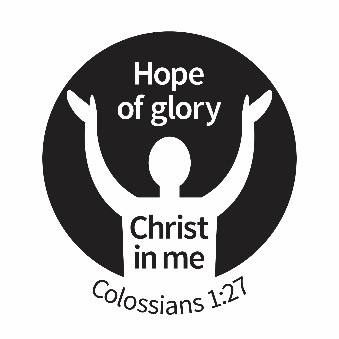 Thank you for partnering with Growing in Grace Ministries in 2015.  Our Ministry is based on both Galatians 2:20 and Colossians 1:27, and we are grateful every day that Christ lives within us! Our Ministry volunteers continually invite Him to live His life in and through each one of us as He fulfills His plan for His Kingdom.  His accomplishments through us in 2015 make this the most gratifying year of ministry yet!
The mini-book is now in three languages with thousands more printed.  The three Bible studies in the Phoenix area had record attendance. And, a Christ in me Bible study curriculum was conceived, designed and produced. Facilitators are beginning to take "The Galatian Road – A Road Less Traveled" Participants Guide and DVD's to Christians nationwide.
Ministry Materials and Services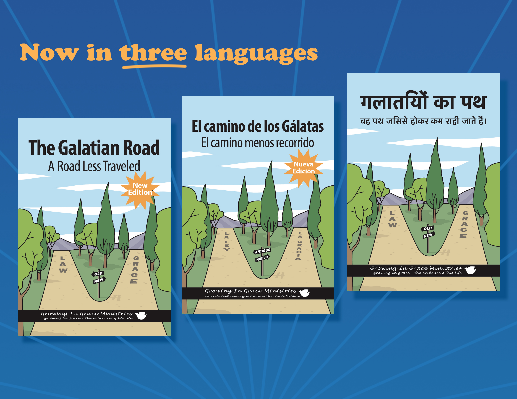 Printed an additional 3,000 Galatian Road mini-books for a total of 15,000 printed in English (2,500 printed in Spanish).
Translated and Printed 1,000 mini-books in Hindi and shipped to Glory to God Ministries in India who are distributing them in their youth conferences.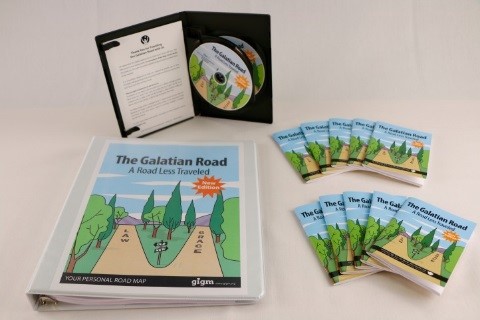 Created a new Bible Study based on an expansion of the content of the Galatian Road mini-book.  This new resource includes three DVD's of Len Baker teaching the contents to a live audience.  It covers over 6.5 hours and comes with a 155 page Participants Study Guide that includes a Facilitator's Guide for directing each group.
Distributed over 125 complete Bible study sets of materials to friends of the Ministry including the Participant Guide, mini-book and DVD albums as seed to encourage future Galatian Road Bible studies.
Expanded the GIGM internet website by adding a "store" where visitors can purchase mini-books and/or the complete Bible study or small group materials for Sunday School classes, small group ministries, etc. Website visitors can also download the mini-book, monthly GIGM newsletters and life lessons. They can also make donations directly on the website.
Ministry Bible Studies
God is working as we had record attendance in our three weekly Bible studies within the Metropolitan Phoenix area. These disciples have completed the study of three epistles: 1 and 2 Thessalonians and 1 Corinthians.
God is working in North Carolina where Laurie Thoren Hudson pioneered the facilitation of the very first "test" Bible study group last spring at The Lamb's Chapel church in Haw River, NC.  Our ministry is very grateful to Laurie for helping the ministry learn the unique needs of a facilitator and helping our team in forming our final participant materials.  Laurie launched another new group in the fall of 2015 and has two new groups planned for the beginning of 2016.  One of Laurie's first participants, Nioma Cox, is planning to facilitate her first Galatian Road Bible Study in Pennsylvania in 2016.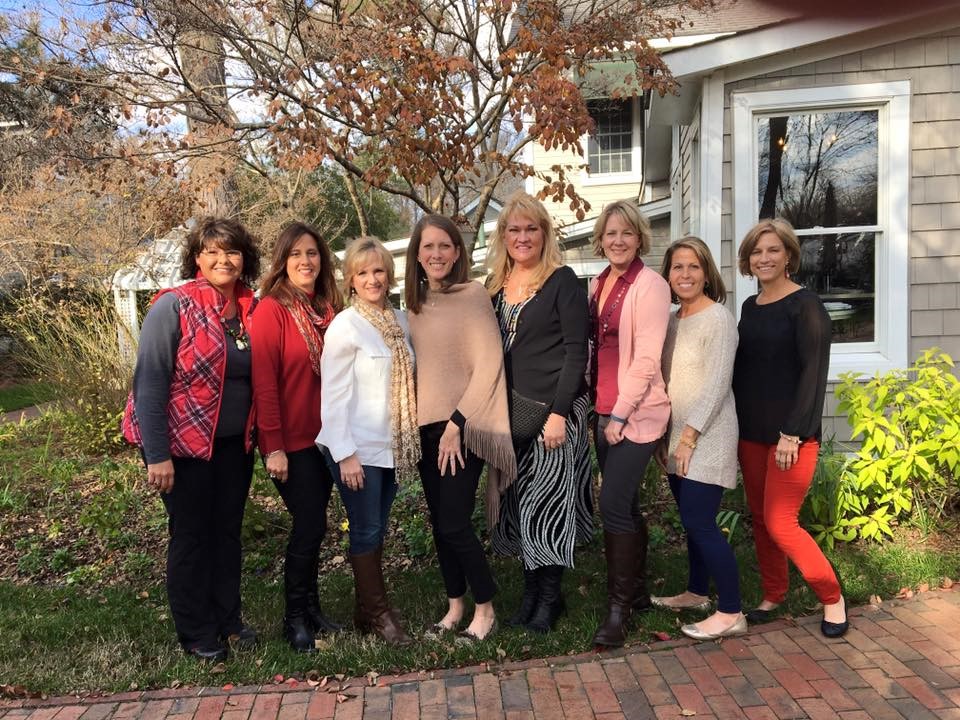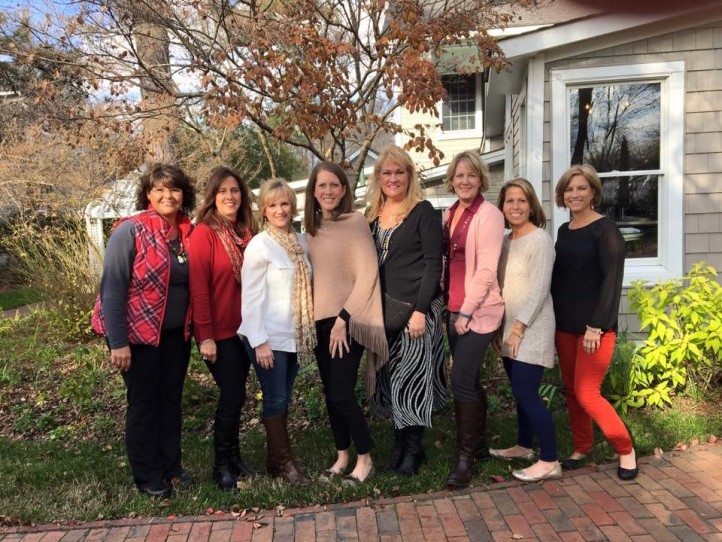 God is working in the prisons as the Arizona Department of Corrections Yuma prison will have 40 inmates receiving the materials that will be facilitated by a fellow inmate and supported by the prison Chaplain.  The ministry plans to visit the prison and also provide periodic telephone support, Q&A, etc., to assure great results for the Glory of God and renewing of minds.
God is working everywhere and in Arizona, Fred and Donna Weber are partway through facilitating their first home group and Max Fowler will facilitate his first group at Arizona Community Church beginning in January 2016.  Dan and Mardy Fuller and six other individuals have committed to launch this new Bible study next year.  The Apostle Paul wrote in 1 Corinthians 3:6, "I planted the seed, Apollos watered it, but God made it grow!"                      
Ministry Testimonials
English
"My eyes have been opened and I am now teaching Jesus Plus Nothing! After 40 years as a Pastor, I feel like I am born again, again.  My counseling is now conducted from a totally different perspective."  Stan Whitney, Pastoral Staff Bethany Bible Church in Phoenix, AZ.
 "What a great tool for encouraging our fellow believers in Christ."  Kyle Moore, Pastor at Canyon Bible Church in Prescott, AZ.
Spanish
 "The reception of your mini-book is amazing. We are using them inside the prison in Mexico and in Bible studies conducted in two private homes.  Another church has expressed interest."  Phil Auernheimer, Founder of New Birth Mexican Mission Church, Sonora, Mexico.
"The lead Pastor in Nicaragua asked if we had The Galatian Road mini-book in Spanish to which I was able to gift him the ones you had sent to me.  He was super encouraged."  Pastor Kyle Moore.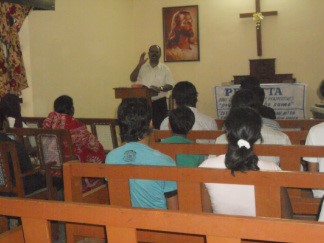 Hindi
"The Galatian Road," is now being distributed at our October conference and youth retreat.  The youth like the fact that it is a short but very effective book making them to learn about true Christianity. . .  Our fellowship team praised God for your ministries to provide such useful resource.  Some books have been sent to interiors where it was in huge demand and we are hopeful it will bless them too.  We thank God for your wonderful ministry and pray may the Lord enrich and continue to use you all for His glory."   Pastor Ashok and Dr. Abha Benjamin, Glory to God Ministries, India.
Ministry Administration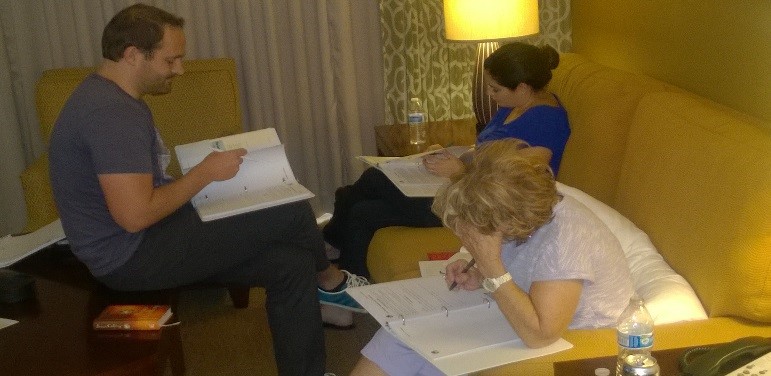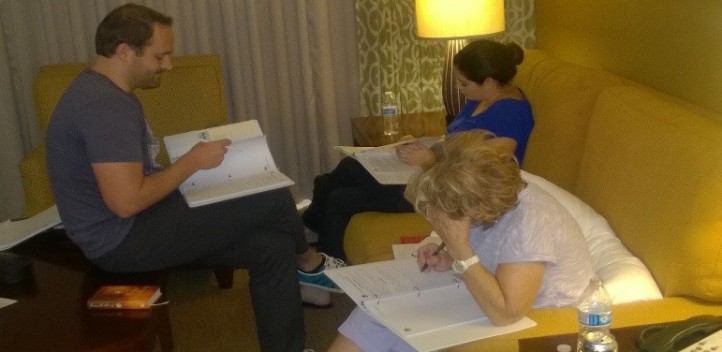 Added new Board Members Brooke Aulerich and Don Thoren to our existing board of Patrick Brant, Chairman Emeritus, Kyle Aulerich, Marilu Vince, Sue West and Len Baker.  The annual Board meeting was held in donated facilities in Sedona in August. Kyle Aulerich gave a presentation on Organizational Leadership which he has been providing GIGM for several years and that includes the design of our internet website, www.gigm.org and all the resources that are being added to it. Marilu Vince, Secretary/treasurer, verified compliance with the filing of required governmental reports and information to maintain our non-profit status as a 501c3 organization that can receive tax deductible donations.
To maximize our internet capability, Renee Gorman is another ministry volunteer who is now helping with organization and communication.
Life Lesson:  "Trust in the Lord with all your heart and lean not unto your own understanding; in all your ways acknowledge Him and He will direct your path." Proverbs 3:5-6  God is good, all the time!
We look forward to seeing what God will accomplish in 2016 as we work together and make disciples throughout the world, spreading the truth of "The Galatian Road – A Road Less Traveled."
Can you imagine the renewed enjoyment and excitement that could break out in your church, community and country if people were again touched by this 2,000 year old message of truth that sets you free?  Jesus doesn't make you better; Jesus is your better!
God's Blessings to you in this Christmas season from the team at Growing in Grace Ministries.
We appreciate your continued prayer and financial support to proclaim the truth in God's word about His amazing grace.  To Him be the glory!
Please remember the Ministry with your year-end giving.
Merry Christmas and Happy New Year,
Growing in Grace Ministries