As Americans we are blessed to live in the greatest country in the world, the best nation on this earth, bar none! But God has also prepared a place for Christians for the future that is much greater. As the song goes "I Can Only Imagine"!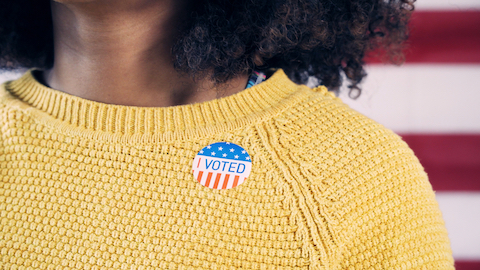 Therefore, our hope and trust should be in the Lord Jesus. Now with that being said the elections are right around the corner. Please don't forget to vote, but remember the following ten powerful facts about elections.
The greatest agent of change is still the Gospel – even after the election.
Christian responsibility does not change – even after the election.
Jesus is still the King – even after the election.
Our citizenship is still in heaven – even after the election.
The tomb is still empty – even after the election.
The cross is still the victor – even after the election.
Our family is still our number one responsibility – even after the election.
The greatest truth in the universe is that Christ is Lord – even after the election.
God is still in control – even after the election.
Don't fret, but trust and wait patiently on the Lord – even after the election.
And don't forget, in the meantime, we are to pray for our elected officials as the
Lord instructs us to, even after the election.
"I urge, then, first of all, that requests, prayers, intercession and thanksgiving
be made for everyone – for kings and all those in authority, that we may live peaceful and quiet lives in all Godliness and holiness." (I Tim 2:1,2) NIV
In Eugene Peterson's paraphrase in "The Message" it reads "The first thing I want you to do is pray. Pray every way you know how, for everyone you know. Pray especially for rulers and their governments to rule well so we can be quietly about our business of living simply in humble contemplation. This is the way our Savior God wants us to live." Oh, by the way, the most fervent of prayers not followed by a trip to the polls is a sham. It's time to vote.
Now remember, regardless of the election results, Jesus is still on the throne and oh, how He loves you and me. Whether your party or candidate wins or loses in November, the real question remains "Where is your hope and trust?
Government ____? OR God____?
What's your perspective?
LIFE LESSON: Jesus said in John 14:1,2: "Do not let your hearts be troubled. Trust in the Lord; trust also in Me. In my Father's house are many rooms; if it were not so, I would have told you. I am going there to prepare a place for you." I vote for that!
That's my perspective. Thank you Jesus.
            We appreciate your continued prayer, support, and partnership with this ministry.  Thank you for your faithfulness.
Growing in His Grace